I am so excited to be participating in the
If you are just joining the blog hop, then you will want to start at the
Really Reasonable Ribbon Blog.
That way you can see what you can win, and not miss out on any of the Design Team's fabulous creations using this
month's
Really Reasonable Ribbon Assortment!!
Here is a photo of the Ribbon Assortment below!!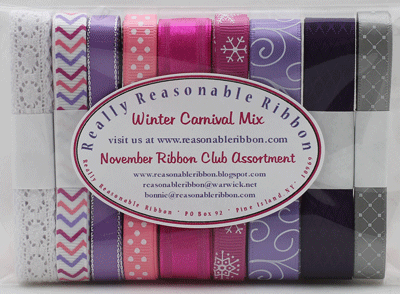 I just love all the ribbons in Bonnie's
Winter Carnival Mix!!
When I saw this month's assortment, I was inspired to Design a Victorian Christmas Doll Ornament Digital Collage sheet!!
You can purchase in my etsy here.
I used an image from Karen the Graphics Fairy as my starting point..
I used the Sheer Fushia Organza fro
m this month's assortment as well as Deep Pink Baker's Twine, Fushia leaves, Moss Leaves and 15mm Mixed Pink tones Mulberry Roses.
A Close up of my Ornament.
I used my Bow it All to create both of my fabulous bows!
I used Scor Tape and Tombo Foam Tabs from
Really Reasonable Ribbon, to hold my layers together, and elevate my Sweet Victorian Angel Doll. I used the fushia leaves and mulberry roses to cover up the little hole where my hanger goes through.
I used GIMP to create my Collage sheets, I used images I found at the Graphics Fairy. I will have the collage sheet in my Etsy, little later today!
More Close ups.
I added some of the green leaves here at the bottom with a couple of mulberry roses. I outlined my Angel with the Ultra fine Metal Tip and Art Glitter Designer dries clear Glue then applied the #174 Pink Cadillac to her dress, #284 French Lilac to the wings, outline of the sentiments and little sweater in her arms, #196 Lion's Mane to her hair, #295 Ensalada to the tiny tree

and

#314 Dew Berry

to her stockings and boots.
Close up of the Sentiment
Here is a look at the back of my ornament! It looks similar to the front...lol. I just didn't add the big bow this time.
Close up of the top.
I used the pink twine to hold my bow in place :0)
Close up of the sentiment.
I used a button from the Berrylicious Collection, more of the pink twine, mulberry roses and green leaves!
Another Ornament
I used the Silver Ribbon and Sherbert Swiss dots from this month's kit as well as crochet lace, moss green leaves and 15mm Deep ivory rose.
Close Up
I used my Bow it All tool to create this fabby little bow and the pink polka dot one below it.
Another close up
I used Storm, Garnet, Lion's mane, Just peachy, poupon, Chamois and ensalada Art Glitters on my piece.
The sweet little clothes pin, is removable.
You will see the Collage sheet tomorrow :0) For another post, so this is just a teaser :0)
I just love working with this month's ribbon assortment!!
I hope that you have been inspired to create some fabulous projects and do a little shopping and maybe get yourself some fabulous finds from Really Reasonable Ribbon.
**Next stop on the Hop**
Time to hop on over to Cherry's Blog
see what she has created, and leave her a little love.
Mr. Snuggles would like your opinion on his new Bow tie, that he created using the new
Bow it All
!
I was a bit surprised when Mr. Snuggles had a seat on my new Bow it all, and asked for the bowtie! He insisted on using the Tuti Fruiti stripe and Satin Plum Ribbons from this month's kits. He is a bit of a show boat!
If you would like a chance to win my
Vintage Christmas Mitten Collage sheet
Please watch my video below, give it a "Like" and leave a comment there. I will do a Random draw of the comments that start today and go until Nov 19th.
I will be sharing with
TTCRD: Anything Goes
Cheerful Stamp Pad: Things with Wings
Make My Monday: Anything but a Card Christmas
Wild Orchids Challenge: Ribbon and Lace
Crafty Calendar Challenge: All things Christmas
Hobby Cutz: Glitter & Sparkle
Frilly & Funkie: Christmas
Thank you for visiting!
Hugs!!
Heather