I am so excited to be participating in the
If you are just joining the blog hop, then you will want to start at the
Really Reasonable Ribbon Blog.
That way you can see what you can win, and not miss out on any of the Design Team's fabulous creations using this
month's
Really Reasonable Ribbon Assortment!!
Here is a photo of the Ribbon Assortment below!!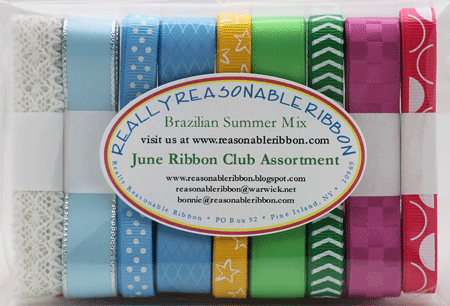 What a LOVELY Summer Mix!! I love all the summery colors in this month's kit.
I thought I would make a card for my bestie Ginny, she has been working so hard the past couple weeks getting things ready for her son's Eagle Scout Court of Honor and his Graduation Party that took place this past weekend. Let me just say that EVERYTHING was perfect!!! Everything she does is just wonderful, and I thought I would take this opportunity to let her know just how awesome she is (I did make this card before I ate the delicious oatmeal with lemon frosting in the middle cookies she made me). Of course I am doing it in my own humorous way...otherwise she would think I was foney balony (I could of spelled that right...but it didn't look as good). BTW...Ginny and I are Vegan...and she did give me my first bite of foney Bolony...it was tasty.
Here is my card.
The darling little image is from the
Stitch in Time Ephemera collection from Gecko Galz.
I simply added the text using the program GIMP. I couldn't pass up the "Jelly," "SEW" and the "Keep Calm and Stitch on!" Ginny has used the "Keep Calm" phrase in many ways lately...(here she thought I didn't listen...lol...my brain is like a sponge...then again so is my belly). I inked all the edges with Ranger's Vintage Photo distress inks.
I used the green and white chevron, yellow stars, white crochet lace and blue diamond ribbons from Bonnies Brazilian Summer Mix Assortment!! I also used
scor tape
and
candi fix it foam pads
to adhere my layers and ribbons. The fix it foam pads elevate my sweet little image.
I am a little bummed because I embossed my yellow paper, it just doesn't want to show up in the photos (you can see it in the one below though).
I also used two buttons from the Button Totes Vacation, and tied bows from both lemon and green apple baker's twine from
Really Reasonable Ribbon
.
I just love this month's ribbon assortment, and enjoyed working with it!!
Actually...I like all the ribbons and trims at Really Reasonable Ribbon, so don't just get the assortment...lol...treat yourself to more goodies...just tell your spouses etc...that "Heather said it was okay"....I like getting thrown under the bus once in a while...keeps me on my toes!! If they give you a really hard time...then tell them you are getting goodies for your awesome best friend for their bday (as if they will know when that is...lol).
I hope that you have been inspired to create some fabulous projects and do a little shopping and maybe get into a little harmless trouble...and remember you can always join us at the Ribbons Anonymous group...if you get caught...and we will hash out a better plan for next month.
**Next stop on the Hop**
Time to hop on over to Tammy's blog,
see what she has created, and leave her a little love.
I will be sharing with the following places
Brag Monday at The Graphics Fairy
Make it Monday: Anything Goes
Thank you for visiting!
Hugs!!
Heather