I am so excited to be participating in the
If you are just joining the blog hop, then you will want to start at the
Really Reasonable Ribbon Blog.
That way you can see what you can win, and not miss out on any of the Design Team's fabulous creations using this
month's
Really Reasonable Ribbon Assortment!!
Here is a photo of the Ribbon Assortment below!!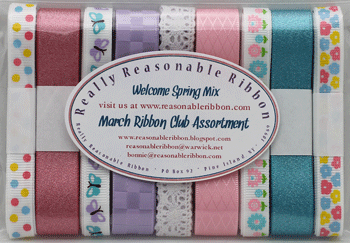 This month we have beautiful Spring Colors to work with!!
Yummy!!
Here are a couple sweet little tags that I made using this month's assortment and a couple of images from my digital collage sheets.
I used the Fun Dots on White Grosgrain, Shimmer Satin Coral Rose, Checkerboard Satin Light Orchid. White lace, Butterfly Ribbon and Spring Flowers Grosgrain from this month's kit. I used my bow it all to tie the Purple and pink diamond and Coral Shimmer Satin bows.
I inked all my pieces with Ranger's Frayed burlap.
Here are a couple of Close ups of the tags.
Tag 2
I used more ribbons from the assortment, and this time added not only a blue mulberry rose, but a Deep Ivory Mulberry Rose, and tied my buttons with Cotton Candy Baker's Twine.
On this tag I used a couple of 10mm Deep ivory and baby pink roses, tied my buttons with both the candy cane and teal baker's twine.
Top of Tag
I just love my bow it all tool and how it ties all the lovely bows.
Bottom of Tag
The back of this tag
Top of tag
Really Reasonable Ribbon has the best Ribbons, trims and flowers!! I just love them all!!
I also added some Glitter to my tags. I used my Art Glitter Designer dries clear Glue

&

Ultra fine Metal Tip to add the dots/lines of glue and outline my egg my images, and I used

#193 Martha's Yard, #92 Banana, #187 Taffeta

(purple color) and #267 Cheeky Pink and #156 Chartreuse.
I hope that you have been inspired to create some fabulous projects and do a little shopping and maybe get yourself some fabulous finds from Really Reasonable Ribbon.
**Next stop on the Hop**
Time to hop on over to Cherry's Blog
see what she has created, and leave her a little love.
Thank you for visiting!
Hugs!!
Heather