Welcome friends! I am so excited...it is a new month..and only a couple days until Bella's has it's first blog hop!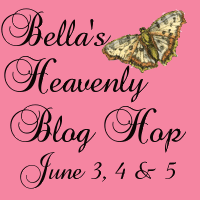 I thought it might be fun...to go ahead and start my groups now. So if you would like to hop on over to Bella Creations today...
and sign up today...that is A OKAY with me. :-)
Début
des Techniques Graphiques
which in English means: Beginning Graphic Techniques.
I created the image below...with some Graphic Fairy images that I altered. So if you would like to know how to do this...just join my group at
This is a group where I will share what I know about GIMP. So you can create images to add to your works of art...or blog. This will be a beginner group..so you don't have to know anything...lol :-)
You will notice that both of my images come from
The second group I have started is....
A friendly place where we can share what we know about blogging, and help those who would like to have a blog. So even if you are technically challenged...you won't be anymore! I started my blog this October? It has been a learning process! I love to share!
So please come and join us at Bella's...there are many fun groups...with many talented artists!
Don't forget to come to the blog hop!
Each DT Member has a prize or two to give away!
There is a big prize too!