Drum Roll pleeeeeeeeeasssseee!
I Finally found my mojo and finished my
for a mini album swap over at
I feel sooo good about this :-)
YAY! My mini was featured
If you have the time, you should check out these sites! Lots of fun challenges...and inspiration to kick start your mojo!
I used Curio papers from Basic Grey. The stamping has been done with stamps I hand carved myself. I have lots of flowers on my tags...yum! I just love the beaded trim!
Here you can see all the rich colors...just bursting out of the pockets! I am super excited, because I will be a Guest Designer at
Gecko Galz in July. I used some of Lee Anne's images here in this awesome mini!
You can just make out my little fairies I made using the Gecko Galz paper doll images! They are so much fun!
Here you can see two of the tags that go into the top pockets of the bags. I leave my embellies unglued...except the top edges...so Carol could slide her images right under the flowers, butterflies...and beautiful fairies. The smaller tag in front goes into the inner pockets (diagonal butterfly pockets). There is pp on one side of these (shown below), and lined journaling spots on the flip side (shown above).
at Bella's for Sandi's challenge at Bella Creations.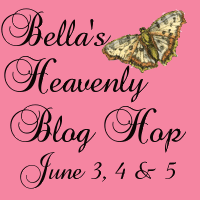 I will be starting a group at Bellas..and you can learn how to create a blinkie...and play around with Graphic Fairy and Gecko Galz images! How fun!
You can also WIN some FREE Goodies.
My Gecko Galz Mermaid fairy..created with the paper dolls series!
Again...journaling on one side and pp on the other.
I just love all the tags. I tried to use different pp from the Curio line.
That cute little tag in front is a collage made up of 7 different elements from multiple Gecko Galz collage sheets.
I used my Silhouette SD's print and cut feature to design all the shaped tags :-) No fussy cutting for this gal!
This is the back of the images from above. The larger tags will slide into the ends of each bag.
Fancy Font work :-) Dreamer
Some more tags that go into the sides. Check out that Graphic fairy dragonfly (upper right).
No mini created by me is complete until it has an ornie! Since it is spring..I did this sweet little bumble bee from Graphics Fairy. The image is on both sides :-)
Here is one more sweet little tag for the inside.
Well...that is another long post!
But not as long as my Bella Carol has waited for her mini :-)