I am so excited to be participating in my 3nd
If you are just joining the blog hop, then you will want to start at the
Through out the hop you are going to see some fabulous creations using this month's
Here is a photo of it below!!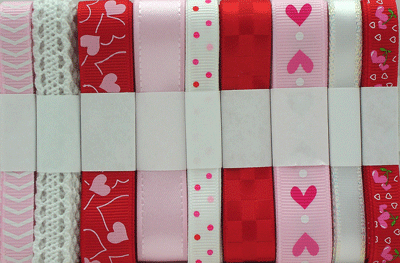 What a LOVELY assortment for Valentine's Day projects!!
I thought I would make a couple tags, and a little holder for them. The plan will be to write some mushy love notes on the back of each one....LOL.
I am happy with how my little creation turned out!
You will see I used the pink chevron grossgrain, sweetheart multi dots, Checkerboard Red satin, Random Hearts Red,
Melina White Crochet trim, Sweetheart Cherries, white satin ribbons from this month's assortment. I started out with a notebook bitty bag. I folded it up upon itself, to create a pocket in the front, and the back pocket is created by opening up the bag :0). I then trimmed the edges with red pom pom trim.
I have also used some other goodies from Really Reasonable Ribbon. A Notebook Bitty Bag, May Arts pink leaves, white satin double ruffle ribbon, Juliet lace, and Ivory Jute ribbon. I also used some champagne pearls, vintage buttons and mulberry roses from my stash.
I also used a set of Valentine Tags that I designed this month exclusively for Gecko Galz, you can purchase them here.
Here are some photos of the tags. I tried to keep the embellishments simple.
I did use some Candi Foam pads, pink curling trim, peppermint baker's twine, red leaves and seam binding also from
Really Reasonable Ribbon.
I cut out all my tags, and sentiments. Inked the edges with Ranger's Vintage Photo distress inks. Used my glue gun and candi fix it foam pads to attach my embellishments.
Here are a couple fun shots. I thought it would be easy and cute to create a heart like shape out of the ribbons, and tuck them under some of my sentiments.
Here are some other shots...
I just love this month's ribbon assortment, and I hope that I have inspired you to create some fabulous projects!
**Next stop on the Hop**
Time to hop on over to Jeanne's blog,
see what she has created, and leave her a little love.
Thank you for visiting!
Hugs!!
Heather