I am so excited to be participating in the
If you are just joining the blog hop, then you will want to start at the
Really Reasonable Ribbon Blog.
That way you can see what you can win, and not miss out on any of the Design Team's fabulous creations using this
month's
Really Reasonable Ribbon Assortment!!
Here is a photo of the Ribbon Assortment below!!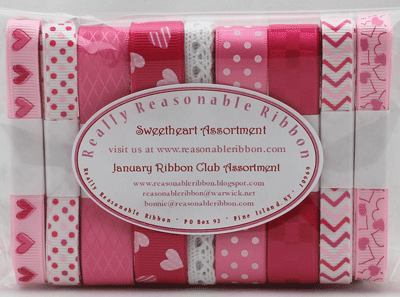 I just love all the ribbons in Bonnie's
Sweetheart Assortment!!
When I saw this month's assortment, I thought...OOOhhhh!! Look at all those beautiful Pinks!!
Here is my first project!
Quick card using my Valentine Bingo Collage Sheet.
I started out with an Ivory Value Pack card base, cut out my Bingo card, then using my Perfect Layer's Ruler, I created a 1/8 inch dark pink boarder around my image. I also used a sheet of light pink card stock that measures 1/8 of an inch smaller than my card base. I used Lots of goodies from Really Reasonable Ribbons assortment this month. The Diamond Satin Hot Pink ribbon across the front of my card, layered on the Mixed pink hearts, then created a triple loop bow with the Diamond Satin Hot Pink and my Bow it all tool. I watched Bonnie's Tutorial here. I tucked in some of the Sally white crochet lace under the edges of my dark pink layer. I also used a button from the Berrylicious Collection, tied with some Peppermint Baker's Twine. I LOVE it!
In the close up above you can see the 20mm Deep Ivory Mulberry Roses as well as some tiny pearl beads that I added. I also added some Glitter! I used my Art Glitter Designer dries clear Glue

&

Ultra fine Metal Tip to add the dots & outline my image of my card and I used #208 Fauna for the clown's neck ruffle, pom poms and base of bingo card and

#174 Pink Cadillac, for the clown suit, and heart, and #349 Garnet glitter for the bows, stripes on hat, shoes and dots on the edges of the card.
I also created a small tag. It went through some phases, was torn up and redone :0) That is how things roll in my head :0).
For this tag I used my Basic Tag shape in cream collage sheet, layered in a pink heart shaped paper doily, then the Bingo Collage sheet I used above. Used my Perfet Layer's ruler to create a 1/8" mat around my focal with dark pink cardstock. I inked my edges with Ranger's Lipstick distress ink.
I used the Satin Swiss Dots ribbon, layered on the Mixed pink hearts, then piled on a Pink Cottage Rose, 20, 15, & 10mm mulberry roses and buttons from the Berrylicious Collection, Across the bottom I used the Double Ruffle Satin Pink then layered on the Mixed Pinks Confetti Dots , then tied a simple knot with the Random Pink hearts ribbon for a bow.
I used Cotton Candy and Peppermint Baker's Twine to tie bows in my buttons. I have used the same glitters in the same fashion as I did above piece!
Here is a close up of the top of the tag. I used more Buttons, a Mulberry rose and tied a Big bow with the Shocking Pink Checkered Ribbon using my Bow it all tool.
Here is a look at the back.
Another vintage style tag.
Here is a look at the tiny heart open.
Here is a look at the back.
I did a video talking about my card and tag :0)
I just loved working with this month's ribbon assortment!!
I hope that you have been inspired to create some fabulous projects and do a little shopping and maybe get yourself some fabulous finds from Really Reasonable Ribbon.
**Next stop on the Hop**
Time to hop on over to Cherry's Blog
see what she has created, and leave her a little love.
I will be playing along in the following Challenges
Simon's Monday Challenge: Anything Goes
Thank you for visiting!
Hugs!!
Heather