Welcome to the First
"My Artistic Adventures Challenge"
**Our First Challenge Theme is Valentines or Love
using elements from one of my many Digital Collage Sheets.**

Create any tangible item, Card, tag, ATC, Layout, altered art piece, Banner, pretty much anything you can come up with that is tangible.
(Sorry no digital entrees)
and make sure you follow the theme and use some elements from one of my digital sheets.
It doesn't have to be a sheet from my Valentine's Section, you can use any of my sheets as long as we can see that you are following the theme.
You will want to check out the RULES page here.
(I am sure the rules may evolve over time...but I will let you know).
If you haven't any of my Collage sheets... I am offering a
15% off of a $5.00 or more sale, you just need to use the
MYARTISTICADVENTURES
as a code at check out.
I can't wait to share with you the
Fabulous Creations from the Designers!
Heather
(that would be me)
Here are a few things I have made in the past using some of the sheets.
Easy quick tags using the
Sweet little Girls and Boys Victorian tags set,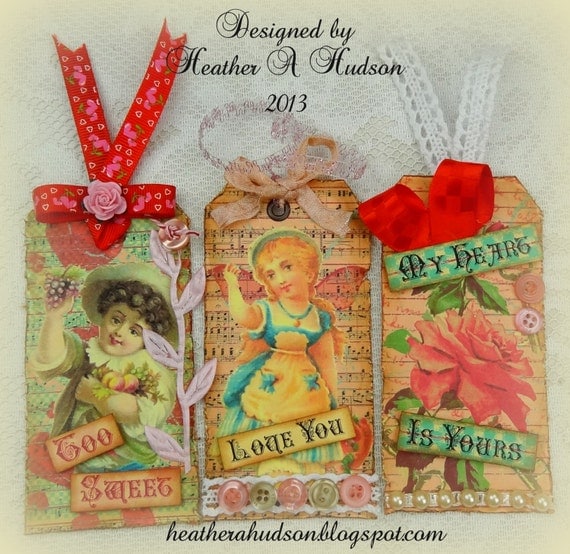 More tags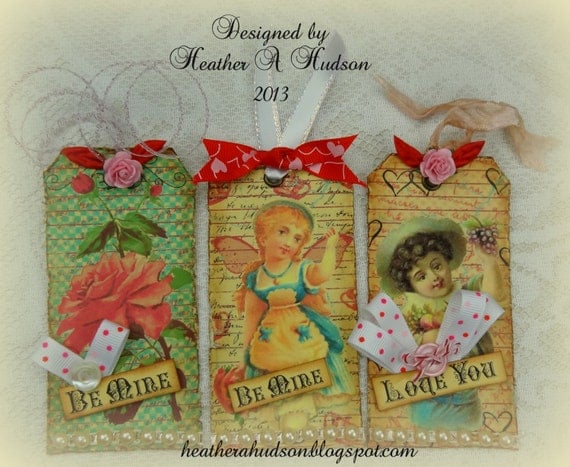 Retro Tag Set Using my Teacup sheet
You can see these on My Youtube too.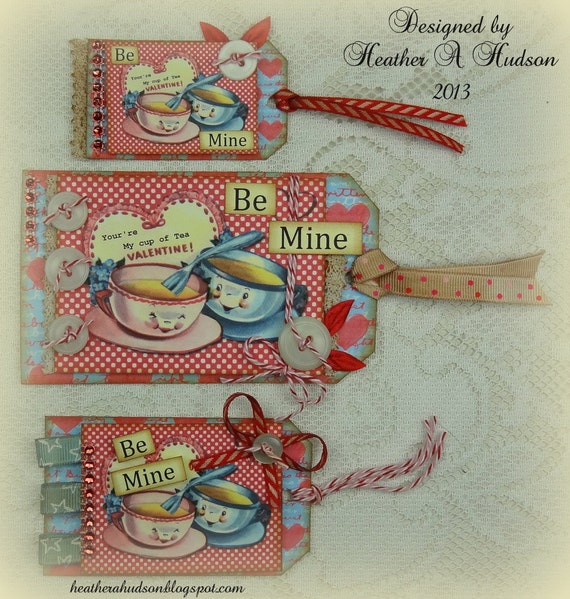 Love Banner using my Rose Focal and Banner Set.
You can see it on Youtube here.
My tutorial here.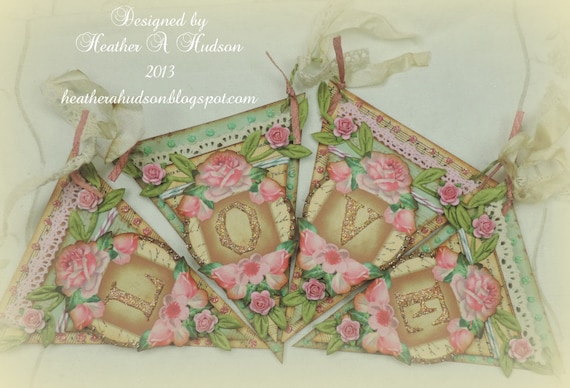 Shea
Created this fabby Tussie Mussie using my elements from the following collage sheets.
Cherub, Pansy heart,and Shabby Green Blue Heart Tussie Mussie
Thank you so much Shea...this is beautiful!!
Daniele
Created this darling tag using the Cherub, Hearts & sentiments & Traditional & fancy Pink Tag bases.
A fabby Easel Card using the Traditional & fancy Pink Tag bases,
Cherub, Hearts & sentiments, and Delivery Cherub sheet.
Thank you so much Daniele...these are true beauties!
Sandi
Created this darling little Valentine Spoolie using my Hugs & Pooches set.
Hugs and Pooches to you Sandi...I love it!
Helene
Created these darling tags using my Sweet little Girls and Boys Victorian tags set, and Romantic Tags and sentiments. Thank you so much Helene they are beautiful!
Has come up with all kinds of beautiful inspiration for us!! I mentioned how I was a little behind on my own DT works (kind of common)...and she said I shouldn't worry..she would cover it for me...LOL...and she did!
Thank you Carol for all of the lovelies!!
A beautiful tag using my Retro Red heart , Music background Tags, and Rose Banner Focals.
Hugs and Pooches Card, using my Hugs & Pooches set.
Beautiful Retro Red Tussie Mussie, using my Retro Red Heart shaped Tussie Mussie.
Adorable Retro Red Pillow Box using the Retro Red Pillow Box sheet, Romantic Tags and sentiments, & Medium Conversation hearts.
A lovely tag using my Romantic Tags and sentiments Set.
Front
This adorable 3d cone using the hearts from Romantic Tags and sentiments! I sure hope I didn't miss anything Carol!!
This adorable Banner using the Rose Banner Focals and
Cherub, Hearts & sentiments
Heart Goes Pitter patter sheet. set. Thank you Anna!! It is adorable!
Starr
I am looking forward to seeing everyone's creations!!
I have created a badge for my challenges, which I would soooo appreciate if you were to place it on your blogs.
You can find the HTML code in the Gadget box in my Upper Left Column. This is what it looks like.
If you don't know how to add the HTML code to your blog,
you can see my tutorial on YouTube here.
Interested in being a Guest Designer?? The DT and I will be picking our top three Favorite Projects (hopefully we get at least three entrees)..who will receive a "Top Three Badge" and a coupon code for 20% off their next purchase.
We will be choosing our Designer's Top Pick, which will receive a badge, be given the opportunity to Guest Design, and receive free images to design with.
We will also have one Random Winner of a free digital collage sheet!!
I plan on having a DT call in April.
please don't forget the
coupon code good for 15% off a $5.00 or more purchase in my etsy
MYARTISTICADVENTURES
I will be sharing with
Make it Monday: Anything Goes

Thank you for visiting!!
Hugs!!

Heather