I hope you are having a fabulous day!!
Sunday Evening I attended Advent by Candle light at Church.
My Mother hosted a table this year. The evening started off with my Mother and I meeting her guests in the Sanctuary for a wonderful musical play. Once that was finished we headed over to my Mother's table which she had decorated with her china and other lovely goodies. I sat with my Mother in Law, Margaret, and one of my mom's best friends Claire. Claire has always been one of my favorite people!! When I was younger, from age 5 till I was a senior in high school, we would have a yearly Christmas party with my mom's two best friends and their families. We would have a little gift exchange. Claire always bought me something different...from the rest of the girls. One year it was a vintage sewing basket with a lot of pretty threads, needles and stick pins. Another year it was a Christmas cookie cookbook with cookie cutters (which I still use to this day). Margaret (MIL) and I get along wonderfully, and she is very artistic.
Earlier in the week, my Mother asked if there was any chance I could make something with the Baby Jesus that she could give to her guests. She wanted something simple and useful.
So, I decided on bookmarks.
I decided to add the Bible verse Luke 2:11 to the front of the bookmark along with an image that I altered from the Graphic Fairy.
For the back, I used the same image and wording from "The little Drummer Boy," which was my Mother's other best friend Bobbie's favorite Christmas song. She lives in Texas at the moment, and was not able to attend, but my Mother is sending her a bookmark along with some other goodies I made.
Below you can see the front of one and back of another side by side. I also created the background using another Graphic Fairy Image.
As most of you may know, I am a last minute artist! So I created my collage sheet Sunday at about 5:30am. Then used my MTC program and my Black Cat Cougar to cut out the fronts and backs for 12 bookmarks.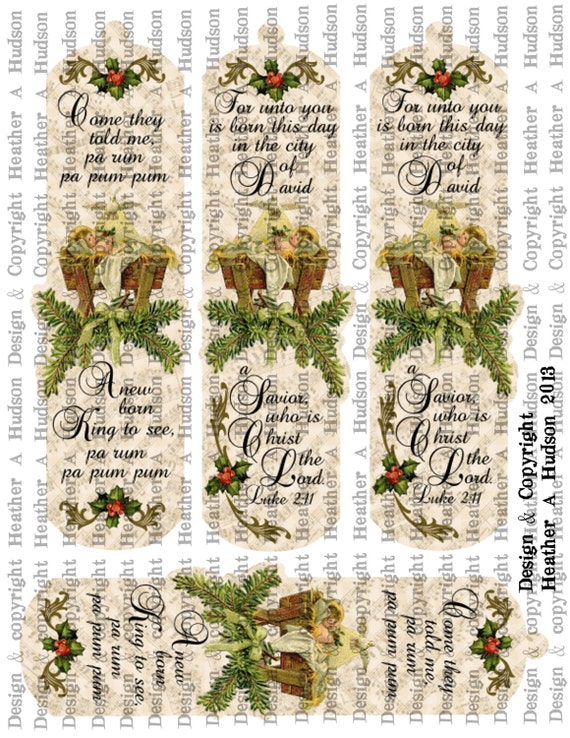 The nice thing about this sheet, is you can print them out on plain paper, and attach the front to the back easily...or you can print them out, place the sheet back in your printer and print a pattern onto the back, and use them as is. One bookmark with the Scripture, the other with the "Little Drummer Boy" wording.
Here is a super quick tutorial :0)
I know..that was bit silly :0). You can see just how easy these would be to make.
I will be playing along in the following challenges
I hope you have a Blessed Day!